Autism Bracelets - I need help.® Communication Bracelets, Gluten-Free Diet Bracelets, Casein-Free Diet Bracelets, Epilepsy Bracelets, Diabetes Bracelet, Pacemaker Bracelet, Camp Bracelet, Custom Silicone Wristbands

Visit us on Facebook for contests and free offers. Click on the f to go directly to our Facebook page.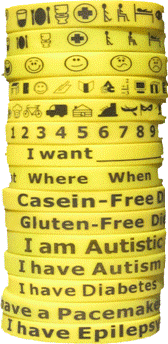 I need help.
®
Communication Bracelet
s
Our Mission: To assist in communication for individuals with special needs, medical conditions, or diet restrictions.
click here to view and order all bracelets
It is Back to School time! Order your School Schedule, Needs and Feelings bracelets so you have them in time for school.