Autism Bracelets - I need help.® Communication Bracelets, Gluten-Free Diet Bracelets, Casein-Free Diet Bracelets, Epilepsy Bracelets, Diabetes Bracelet, Pacemaker Bracelet, Camp Bracelet, Custom Silicone Wristbands

Visit us on Facebook for contests and free offers. Click on the f to go directly to our Facebook page.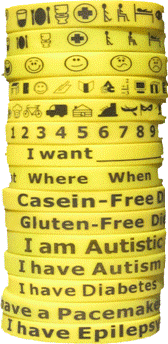 I need help.
®
Communication Bracelet
s
Our Mission: To assist in communication for individuals with special needs, medical conditions, or diet restrictions.
click here to view and order all bracelets
March is National Developmental Disabilities Month
Purchase a "Needs" Bracelet for your loved one